Mushrooms are not too demanding when it comes to growing conditions, and there are thousands of different mushroom species out there. Meaning, it's not too difficult to find mushrooms in the wilderness, but it's difficult to know which mushrooms are edible. Knowing this information can come in handy in multiple scenarios. Who knows, maybe you will find yourself in the wilderness foraging for food, or you might want to know what some delicious mushrooms look like in order to prepare a better meal. So, let's see some of the best books that you can use to gather edible mushrooms.
Mushrooms: A Comprehensive Guide to Mushroom Identification
This is a guide written by Roger Phillips and it basically serves as an encyclopedia for fungi identification. The images that are featured in this book are amazing and you will learn a lot simply by looking at them. It's not a book for beginners though, as it seems to be aimed at intermediate or advanced mushroom foragers. The style is academic and there is a lot of technical data included.
Edible Mushrooms: A Forager's Guide to the Wild Fungi of Britain and Europe
This guide is a better fit for someone who is looking to become a mushroom forager. It is written by Geoff Dann and it is a big book with over 500 pages, filled with useful information on different fungi. You will learn how to identify them based on appearance, smell, taste, and the places they grow. You will also learn about the type of equipment that you will need to get started, but as the title suggests it only covers specifics that can be found in Europe.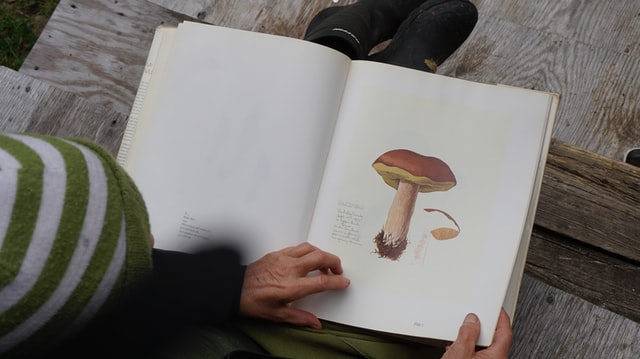 Collins Complete Guide to British Mushrooms and Toadstools
This is a pocket guide, so it will be more convenient for you to carry it around. It is written by Paul Sterry and Barry Hughes, and it focuses on fungi you can find in Ireland and the UK. It's a perfect fit for both intermediary mycologists and casual or amateur mushroom lovers. So, if you are looking for a neat and useful field guide you cannot go wrong with this one, so long as you are in the UK.
Complete Mushroom Book, The Quiet Hunt
An ideal pick for those who are foraging because they love to cook. This guide is written by Antonio Carluccio and the first part of the book contains illustrations and explanations on how to identify mushrooms in the field. The second part of the book contains recipes or cookery ideas that can inspire you to create lots of different meals, using the mushrooms that you can find. You can see just how passionate the author is when it comes to mushrooms, and you will likely be inspired to become a forager yourself.
These were some of our top suggestions for books on mushroom foraging. Hopefully, you found these descriptions useful, and we helped you decide which book to get.